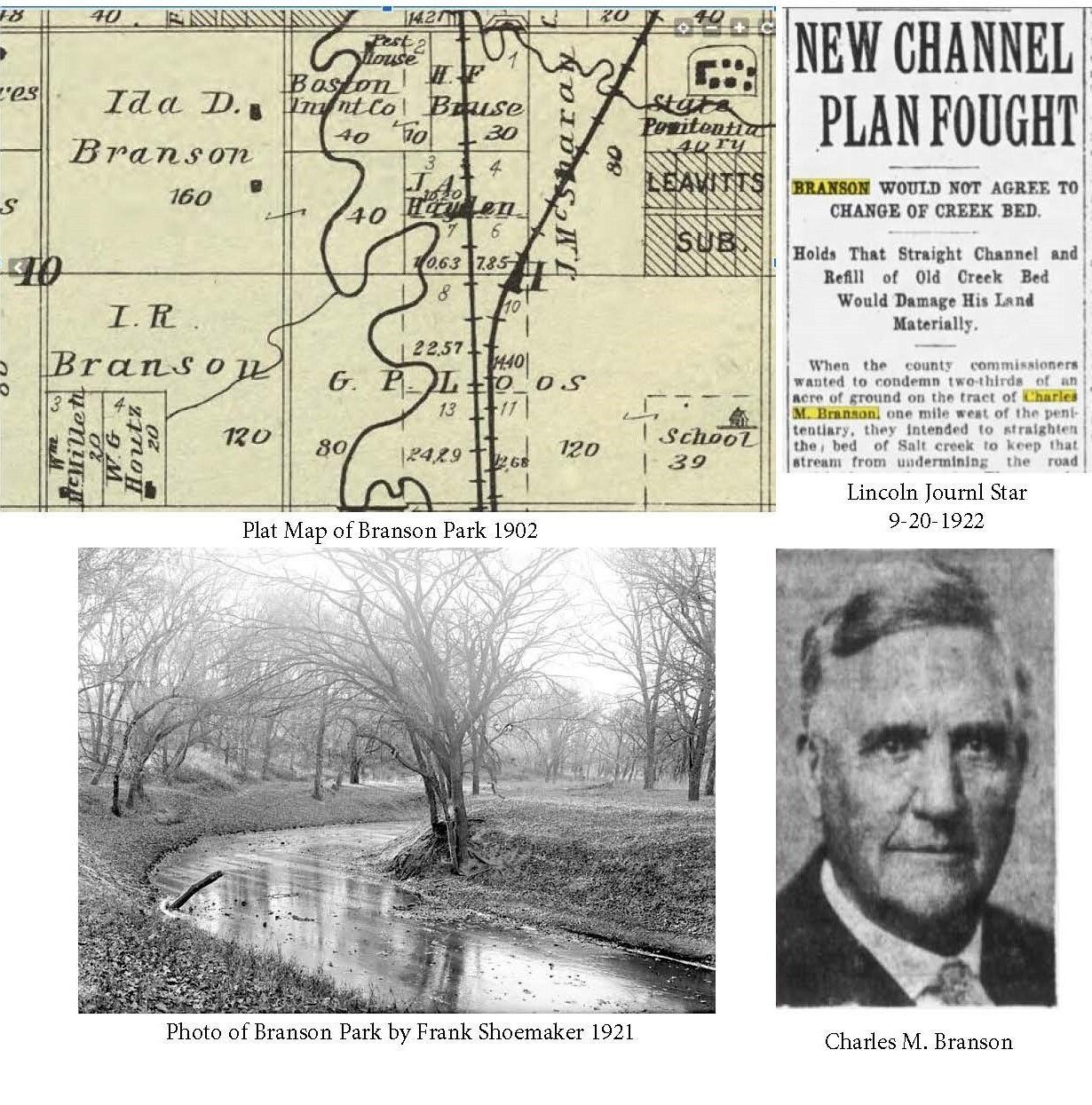 Wilderness Park has always been a place of adventure. Lincoln Park with its roaming bison, Electric Park with its arcade, and Epworth Lake Park with its Chautauquas are frequent subjects telling the adventurous history of the land we call Wilderness. When I learned of a park that existed just south of Pioneers Boulevard for more than 50 years, I found myself on another historical research adventure in Branson Park.
Branson Park, named after land owner Charles M. Branson, existed roughly between 1883 and 1945 just southeast of South 1st Street and Pioneers Boulevard. It was the 70 acre wooded area straddling Salt Creek on the east side of Branson's 250 acre farm known as "Riverside Farm" or "Riverside Stock Yard".
Charles M. Branson, born on July 19th, 1853 in Fulton County, Illinois, had a grandfather who was friends with Abraham Lincoln. According to a Lincoln Journal Star article (February 11, 1944), Branson recalls hearing a Lincoln-Douglas debate in August of 1858. It was said that Branson's grandfather and Lincoln were so close that Lincoln would walk 8 miles from Springfield to visit Branson's grandfather.
Before coming to Lancaster County in 1883, Branson received a Master's Degree in Philosophy in 1877. That same year he married his wife, Ida.
Branson purchased the "Riverside Stock Yard", already a much admired farm, from T.H. Leavitt, of the Burlington Railroad. Here Branson continued Leavitt's work of raising shorthorn cattle and Poland China hogs. It was also here that Charles and Ida raised four children: Charles, Rachel, Bernine, and Joe.
Charles' land around Salt Creek became known as Branson Park, which already had a stand of Oak, Elm, Maple, Hackberry, Ash, and Locust. Branson himself planted more trees to expand the wooded area.
Branson would use his picturesque farm to host banquets for local politicians and he would give addresses asking for equality for farmers and laborers. One of his speeches was recorded in the June 22nd, 1890 edition of the Lincoln Evening Call.
"Capital is the fruit of labor. Labor is the superior to capital, and deserves higher consideration."
Looking at these words, one could imagine Branson was continuing President Lincoln's work of creating a "more perfect union".
A pest house is marked in a plat map of Branson Park dating 1909 and a mention of a Juvenile Camp opening in Branson Park can be seen in an article of The Nebraska State Journal (July 18, 1910). This leads me to believe that Branson truly did open this area up to the community. Both the house and camp speak to a type of civic altruism possibly influenced by President Lincoln or Branson's Philosophy degree.
An article from the Lincoln Journal Star (September 20, 1922) tells the tale of Lancaster County planning to channelize Salt Creek in Branson Park due to an eroding bridge embankment very close to a bend in the creek. Branson and the Chamber of Commerce protested the plan. Charles stated, "the park would be greatly scarred by the unsightly ditch." Eventually the creek was channelized in this area and the old creek bed can still be seen by park users south of Pioneers Blvd and east of Salt Creek.
If you're wondering what the park looked like 100 years ago, you're in luck. While doing a bit of research on a famous Nebraska ecologist, Frank Shoemaker, I was directed to a collection of photos he took in "Branson Woods". I would like to take this moment to thank Emily Levine for letting me know these photos exist online at the link below. As you can see, the land was less wooded than it is today but the park and forest "feel" is very present. I would also like to thank the Sandhills Archive at UNL for making these photos available to the public.
https://sandhillsarchive.unl.edu/frank-h-shoemaker-branson-woods-lancaster-county-nebraska/
There are still many details to be discovered about Branson Park. Much like Lincoln Park, Epworth Park, and Electric Park, this area tells a story of how Lancaster County existed 100 years ago. Just as Wilderness Park is a fundamental part of our natural legacy, it is also a part of our historical legacy. Charles M. Branson died in 1945 at the age of 91. He knew the need for natural and public spaces for the community. We are all fortunate he had the foresight to preserve this area for future generations.
Adam Hintz
Executive Director
Friends of Wilderness Park
1-8-23