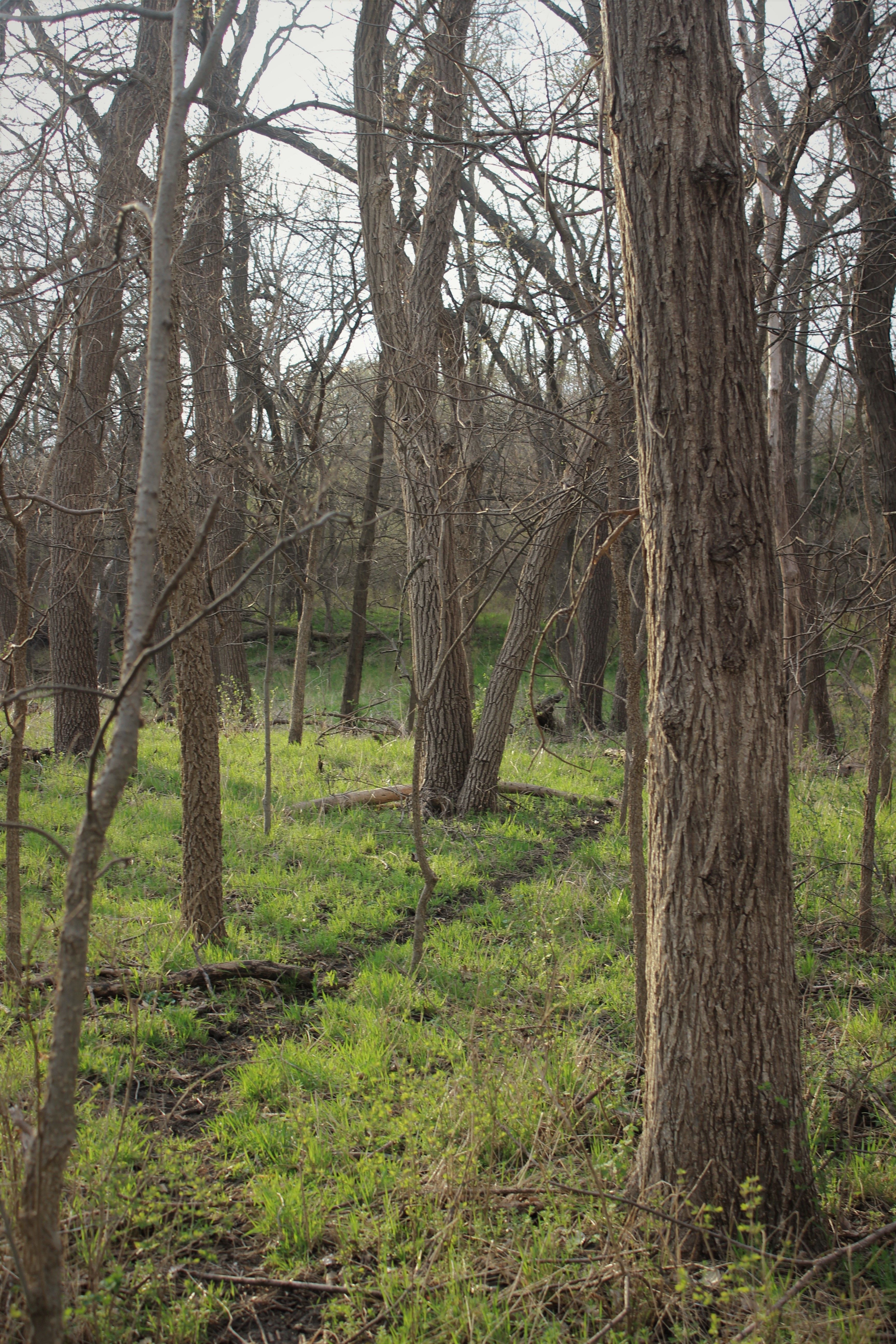 Of all the seasons, Spring is the best. Countless times, this season has brought me new experiences and awe-struck sensations. From the first sound of chorus frogs to the bloom of larkspur, the sight of life breathed anew is good for the soul.
Here are some things to keep in mind as you explore Lincoln's largest park:
Wait for the trails to dry
Finding the right time to visit will take some forethought. Since Wilderness Park is in a lowland Oak forest, the water table is very close to the surface. It's wise to give the trails at least a day to dry before venturing. Some of the higher parts of the park will dry sooner than others. As a rule of thumb, Old Cheney south to 14th Street stays the wettest the longest. Van Dorn south to Old Cheney being the dryest.
Even though you may have given the trails plenty of time to dry and the soil around your home is dust. There may be places you'll experience which will always have standing water or mud. It's always wise to wear hiking boots you don't mind getting muddy, with a change of shoes for your trip home. I usually keep a pair of mud boots in a box in my car for impromptu hikes. I simply change in and out of them in the parking lot. As the season progresses, and rains become less frequent the window for mudless adventure increases.
Yield to the right. Pass to the left. 
Hikers, Runners, Bikers and Equestrians share these beautiful braided trails. As we're enjoying nature, we need to stay aware of traffic coming from in front and behind us. For hikers, please step to the right side of the trail so bikers and runners can pass easily. For bikers and runners, slow down and pass safely. For equestrians, know your horses and communicate with your fellow trail users. Most often, Equestrians will be moving the slowest and it's wise for hikers, runners, and bikers to announce yourself with a friendly hello as soon as you see a horse. Give the horses a wide berth and listen to any instructions the horse rider may have. The safest way to navigate any bottleneck or obstruction is to SLOW DOWN and communicate. Our trials are not for racing; they are shared among those with a wide variety of experience and our patience will match our peace on the trails.
Keep your pets controlled and on a leash
Wilderness Park is dog friendly, but it is not a dog park. It is the law to keep your pet on a leash and controlled for it's safety, and the safety of others. There have been many times off leash pets have caused some pain and sadness in the park. Two years ago, a dog who was trusted to be off leash, ran away then died because he was hit by a car on Old Cheney. In that same year, a dog attacked a trail user causing much injury. Keep your pet under enough control that you can bring them to you securely to the side of the trial as other users pass. Do not allow the leash to leave the possibility for a tripping hazard or closeline.
To be honest, my partner and I let my dog, Murphy, go off leash when we started exploring with him. It just took one time for him to dart into thick brush after a deer, to show us the importance of keeping him controlled on a leash. A lost dog is no fun and losing a pet forever is a tragedy.
Now is THEE best time to be in Wilderness! The temperatures are perfect and the mosquitoes have not arrived. Don't miss out on this amazing season!